Carlos Relvas VR Studio

Take a trip back in time and visit an 1860's photo studio when stereoscopic photography was the cutting edge technology!


Research project:
European Stereo Masters: Carlos Relvas, 2017-2018; Research center: CICANT, Lusofona University, Lisbon




This is a virtual reality installation that allows an immersive visit to the first photographic studio of one of the Portuguese photography pioneers, Carlos Relvas (1838-1894), enabling an interaction with his stereoscopic cards, a paramount example of his early photographs. Users will be able to choose and see in 3D each of the cards, to observe captions and labels in the backs, as well as to listen to a soundscape recorded exactly at the same place where the studio was once located, in Golegã, the hometown of Carlos Relvas.
_______________________________________________________________________________________________________________________
In 1873, the first photographic studio of Carlos Relvas was demolished and replaced by an elegant and luxurious Studio House, today an important historic monument of photography heritage that can be visited in Golegã (in central Portugal). There isn't much information about the original studio where most of his stereos were made, but we were able to find photographic records by Carlos Relvas in different public and private collections which were essential for the digital reconstruction in three dimensions of this space and its decoration.Thanks to the documental value of these photographs (taken inside and outside the old studio), it was possible to develop the detailed artistic work of 3D modelling, texturing and video game programming. This VR environment was validated by historians as an authentically digital recreation and as an engaging experience of "being there" in the Carlos Relvas 19th-century studio.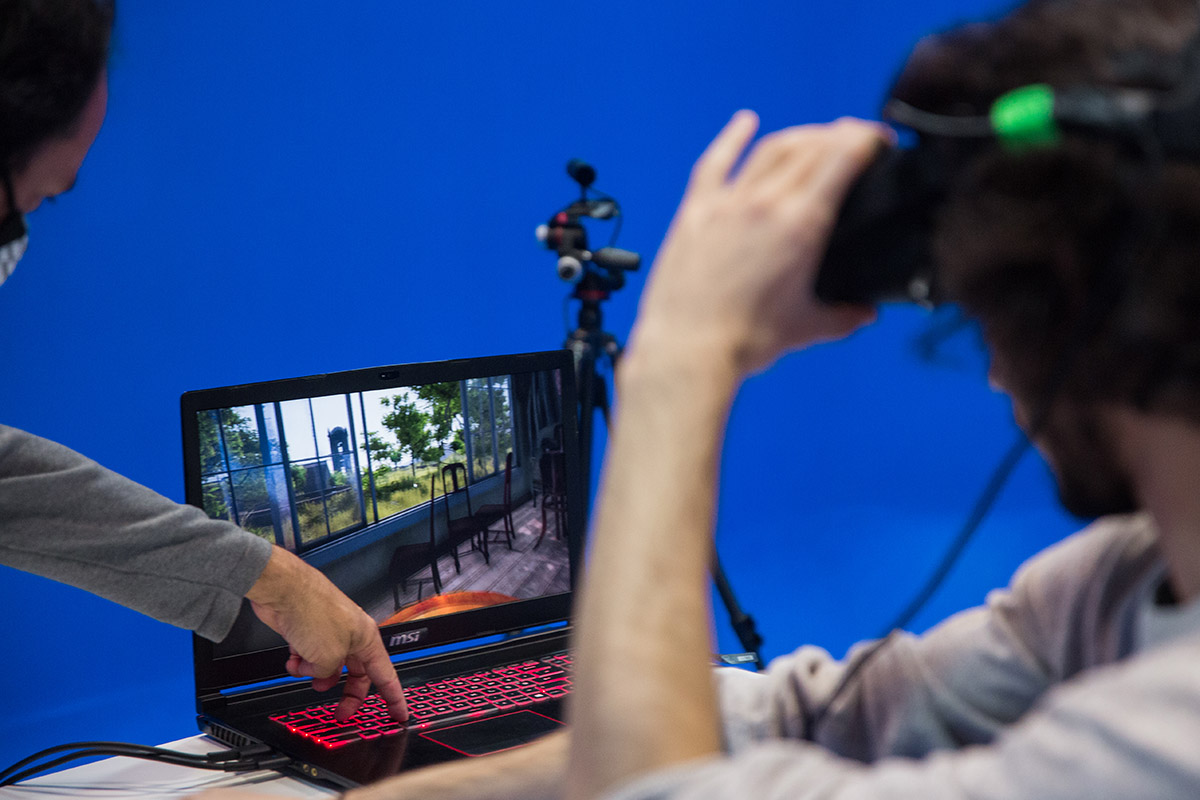 Photos by Fernando Tavares
Carlos Relvas' first photography atelier was built in the garden of his property in Outeiro in 1863, and dismantled around 10 years later to make way for the imposing House-Studio which still stands in Golegã today. Several photographs by Carlos Relvas remain of this first atelier, allowing us to reconstruct its indoor and outdoor environment relatively closely. Using modern virtual reality technology, we present an immersive, visual and audio journey around that first studio, still simple containing some of the props which would accompany Carlos Relvas throughout his career. This is also an opportunity to handle his stereoscopic cards, see his images in 3D and glimpse the backs of the photos with unpublished information about his career.
Digital tour to the XIX Century
3D cenario with surround sound
Interact with stereoscopic photograph cards
life-like experience of being there
Research Team:

Ana David, Filipe Luz, Rodrigo Peixoto, Victor Flores.
VR app:
Filipe Luz
Roberto Júnior
VR programming:
Roberto Júnior
3D Modeling and Texturing:
Filipe Luz
Sound Design:
Luís Pinto
Stereoscopic editing:
Filipe Luz
Producer:
MovLab
Special Thanks to:

To Denis Pelerin for the super duper references and share of his amazing knowledge.
To University Lusófona for the technical and project support.
To CICANT and Hei-Lab Research Units.
(European Stereo Masters: Carlos Relvas, 2017-2018)


Universidade Lusófona de Humanidades e Tecnologias
Campo Grande, 376
1749-024 Lisboa (Portugal)
Building F (Lab F0.14)
(movlab@ulusofona.pt)